The Importance Getting a Tuberculosis Test
When you're thinking about the diseases you might be at risk of contracting as an adult, you probably don't immediately think about tuberculosis. Even though it isn't extremely common in modern times, it does still affect people all over the world. When someone gets tuberculosis (TB), it is extremely serious and can even lead to death in some cases.

Contact us for quality care at an affordable price.
The Silent Threat
Tuberculosis is a contagious, airborne disease that can lie silently in wait before ever presenting itself through symptoms. For that reason, an individual could have the TB infection for a number of years without ever knowing. Such silent presence also makes it a difficult disease to treat and even to prevent, but tuberculosis tests can be the best defense against spreading the infection and in being able to treat it before it becomes deadly.
Symptoms
Tuberculosis exists in two forms. Latent tuberculosis is noncontagious and does not cause any symptoms of sickness. Tuberculosis disease, by contrast, causes people to experience symptoms including:
Chest pain
Chills
Coughing up blood
Fever
Night sweats
Severe coughing that lasts three or more weeks
Weakness
Weight loss
Tuberculosis tests are necessary to rule out the disease in people suffering a combination of these symptoms, and each location of the ProHealth blood work facilities is able to provide quick, inexpensive TB testing services that will be invaluable in identifying its presence and preventing its spread. Because TB is transmitted through the air, it can spread simply by coughing, speaking, singing or sneezing.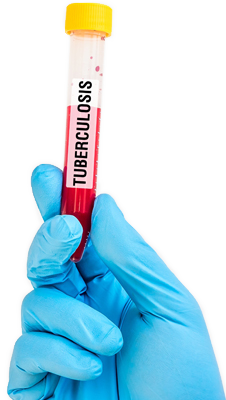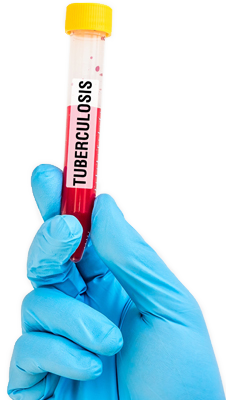 Risk Assessment
Anyone in contact with someone infected with TB is certainly at risk of contracting the disease, but certain other individuals are more prone to infections, as well, including:
Drug users
Homeless people
Individuals with HIV or other immune disorders
Nursing home patients
People from countries such as Latin America, the Caribbean, Africa, Asia, Eastern Europe and Russia, where TB is common
People showing symptoms of TB
Prisoners
Because so many infected individuals experience no symptoms, requiring tuberculosis tests for new-hires and current employees is highly advisable for business owners and employers hiring individuals who fall into the at-risk categories. Anyone working in healthcare should get a tuberculosis test.
Test Options
There are two different forms of tuberculosis test, one requires an injection under the skin, while the other requires a blood test. The reason for testing, the availability of the test and the cost of the test will all dictate which of the two test methods is employed.
Skin Tests
The tuberculosis skin test requires that a small amount of a chemical called tuberculin, which is derived from a type of tuberculosis bacteria, be injected just under the surface of the skin. The injection causes a small bump to appear on the arm. Over the next several days, the bump is monitored for changes, and the individual being tested will be required to return to the testing facility for an evaluation within the next two to three days. During the evaluation, the bump will be measured to determine the presence of infection.

Contact us for quality care at an affordable price.
Blood Testing
Much like other blood tests, the tuberculosis blood test requires a small amount of blood for testing. We then send the blood sample to a lab, where it will be exposed to tuberculin to determine the presence of tuberculosis in the blood.
In either type of testing, positive results mean that an individual has either latent TB or tuberculosis disease. Treatment for tuberculosis begins immediately and involves chest X-rays and other tests to determine the severity of the infection as well as the administration of antibiotics. A doctor will assess effective treatment options for latent TB.
Our Range of Quality Care
In addition to offering tuberculosis tests, our facilities throughout the area provide a range of care including:
DNA Paternity Testing
Drug Testing
Medical Services
Pneumonia Vaccinations
STD Testing
Tdap Vaccinations
Tetanus Shots
Vaccinations
Vitamin B12 Shots
Contact your local ProHealth facility to learn more about our range of medical care and the tuberculosis test services we offer today!