Student, Camp & Sports Physicals
$40
Navigating a DOT Physical
As a business, it is critical that you have qualified drivers for the safety of your employees, your cargo and the general population on the road. We offer our business clients individualized services to make sure your process is quick, efficient, and accurate. Also, all ProHealth APRNs are DOT Certified Medical Examiners.
All of our clients are:
Provided a specific point of contact who knows your business to schedule all of your appointments
Provided timely appointments to get your drivers in and out
Provided the forms in advance for your drivers to complete which will save time at their appointment
Individual Drivers
If you are an individual driver who needs to qualify for a DOT certification, we can help you understand the medical requirements you need to meet and provide you with excellent care and guidance throughout the process. If you have issues that prevent you from qualifying, we can schedule a follow-up appointment to discuss treatment and help get you back on the road!
ProHealth provides individual drivers with:
Forms to complete before the physical
A timely appointment to get you in and out and back to work
An explanation of conditions or issues that may keep you from qualifying
Follow up care to treat any disqualifying conditions and get you back on the road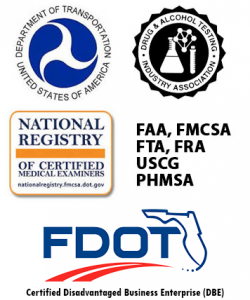 Items to bring to your appointment:
All current medication bottles
A list of any over the counter medications or supplements
Any recent lab results including hemoglobin A1C levels within the last 3 months
If you have had a heart attack, heart stents, cardiac surgery or cardiovascular disease, you will need to bring a copy of any stress testing that has been performed within the last 2 years (required) and a clearance letter from your cardiologist
A copy of your latest sleep test results if you are using a CPAP
Current driver's license
If you wear hearing aids, be sure to bring them with you
You will fill out a medical questionnaire about your health history
Your vitals will be taken including pulse, blood pressure, weight and height
You will be given a vision test
You will have to provide a urine sample for a dipstick test (SP, Glucose, blood, & protein)
If you have a history of respiratory disease or abnormal sounds noted on your physical exam a lung function test may be required during your DOT exam
A certified DOT examiner will review your history and complete the exam
After the exam is completed and the examiner determines you are approved to drive, a card will be issued to you
People with diabetes will fill out an additional questionnaire
Tips to make the process easy and quick:
Make sure you continue to use your prescribed medications including blood pressure
Cutting back on caffeine and nicotine can help improve your blood pressure
Avoid using decongestants, diet pills, steroids and certain pain medication (Ibuprofen and naproxen) prior to your exam
Reduce the amount of salty foods you eat
Avoid adding salt to your food can also help to lower your blood pressure
Cut back on coffee, caffeinated sodas, and energy drinks
Sit quietly before measuring your blood pressure
Try to get your DOT EXAM at least a month prior to DOT expiration
Avoid high noise levels prior to your DOT appointment
Drink water. Come well hydrated.
If you have not had an eye exam in the past 2 years, consider having one done prior to your DOT exam
If you are diabetic and use insulin you will need to go to FMCSA.DOT.gov, then in the search bar type: Diabetic exemption, this will guide you through the process to apply for a waiver.
Employment Physical Examination Requirements
Physical examinations involve measuring physical ability, testing for alcohol and drugs, and other assessments. These exams can often help determine if an individual is fit to take on a position that involves any degree of physical ability or manual labor.
Employment Physical Examinations typically analyze:
Balance
Flexibility
Cardiovascular Endurance
Muscular Endurance
Muscular Tension (involves lifting, pulling and pushing actions)
& More
General Health Exams
ProHealth offers quality medical exams. We like to get to know our clients and provide standard health forms that help us help you. We can help you to monitor your health and provide referrals as needed.
We typically examine:
Skin
Extremities
Head
Neck
Abdomens
Lungs
and Heart
We even assess neurological health in patients including alertness and memory.
Everything from mental state to muscle strength!
Find out more
Request a consultation to find out more about our employment physicals and occupational health options.
Drug Testing
Employers, businesses, and individuals can get affordable 5-12 panel drug tests, plus DOT drug testing and HHS testing, at any of our locations.
Medical Memberships
ProHealth Medical Membership for small businesses offers discounted medical care and lab tests.
Flu Clinics
We offer individual flu vaccinations at all of our locations as well as onsite flu clinics for businesses.
Walk-in Clinics
We have walk-in clinics in Pensacola and Gulf Breeze.
STD Testing
Walk-in to any of our seven locations to get affordable and confidential STD testing. No appointment or doctor's order needed!
Occupational Health
We offer occupational health options to businesses.
Contact Us
All of our locations accept walk-ins, but if you have any questions or would like to make an appointment, please contact us!