Caring Service at a Blood Work Facility in Santa Rosa Beach
The need for fast, affordable care is no respecter of the map. Even in more affluent communities like Santa Rosa Beach, there are still many people who don't have the best insurance or sometimes even any insurance at all. This means that seeing someone about the medical services they need might not happen. At ProHealth, we 're dedicated to meeting the health needs of our communities. We've become known for offering a wide range of convenient and affordable care. We operate a blood work facility in Santa Rosa Beach where patients can have various tests performed including DNA testing, STD testing and TB testing.
We know that many individuals living and working in the communities surrounding Santa Rosa Beach need blood testing. Many may not have the time or the money to schedule those tests with a hospital or through a traditional medical facility. Our purpose as medical professionals is to do everything within our means to meet the needs of the community. So we offer affordable health screenings and blood testing services. Often, we can see walk-in patients.

Contact us for quality care at an affordable price.
Timely, Affordable Drug Testing
Our blood work facility in Santa Rosa Beach offers both rapid-result testing as well as lab-based tests. The type of results you receive will naturally be dictated by the specific type of tests we run. Rapid tests take only a few minutes to perform. We can provide you with accurate results in a matter of minutes. By contrast, we send more in-depth, lab-based tests to our testing facility partners so that they can run them through the lab. You will receive those results in about 24 to 48 hours or up to a week.
Our blood work facility in Santa Rosa Beach offers affordable blood testing services. Importantly, we know and appreciate the need for efficient, accurate testing that costs less than many other medical facilities are able to provide. Our team at ProHealth works with many businesses who send in their new-hires to confirm that they are drug-free. We also see individuals who find themselves facing the concern of having contracted a dangerous disease. Regardless of what might be bringing someone in to seek our care, we give them the same treatment and the very same respect. The health of our community is our topmost priority. We firmly believe that our kindness and understanding is one the ways that we can make the greatest difference in reaching out and making community health a reality.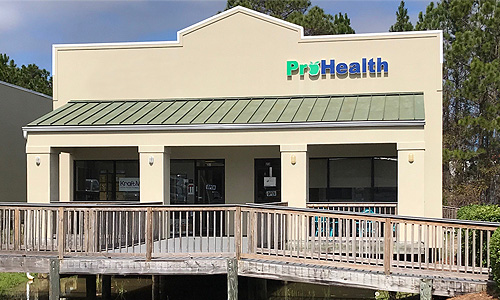 High-Quality Care At A Lower Cost
Since beginning our work at ProHealth, we have been fully dedicated ourselves to offering a full range of high-quality medical care and health services to the people in our communities. Unfortunately, covering the cost of medical care can be almost impossible for many of the people need it the most. Therefore, we also offer a variety of affordable Medical Memberships at a cost designed to alleviate some of the financial strain that healthcare expenses so often bring.
Created specifically to provide lower-cost, fixed pricing to uninsured patients as well as individuals with high deductible insurance, ProHealth medical memberships allow physicians to provide a greater degree of one-on-one care. In fact, memberships can be purchased in monthly or annual membership packages with predetermined fees and a set number of office visits built in. As a result of the membership structures, our team of highly dedicated doctors spends more time and focus working directly with their patients. Therefore, our patients have greater peace of mind knowing that their healthcare will be affordable.
Whether someone makes an appointment with one of our ProHealth facilities with a need for full-service medical care, stops by with a need for lab work and blood tests, or has a minor injury that needs attention, the team of healthcare experts and physicians at ProHealth is dedicated to our mission of offering an excellent quality of care and the answers you need to get your health on track.
4942 Hwy 98 Suite #23, Santa Rosa Beach, FL 32459
Phone: (850) 267-0360  |  M-F 7:30am - 1:00pm
Services: Lab work, Immigration Immunizations, Drug & Alcohol Testing, Vaccinations, DNA Paternity Testing, Vitamin B12 & Lipotonix shots
Services with range
Our blood work facility in Santa Rosa Beach provides a range of services including:
DNA Paternity Testing
Drug Testing
Medical services
STD Testing
TB Testing
Vaccinations
Vitamin B12 Shots
Immigration Immunizations
Please learn more about our testing facilities here.
Contact the ProHealth blood work facility in Santa Rosa Beach to learn more about the health screenings and blood testing services we provide today!