Accurate And Affordable Blood Work Facility In Fort Walton Beach
ProHealth Medical Care offers a wide range of care including occupational health services. We believe that staying on top of your health is crucial. So we also operate a blood work facility in Fort Walton Beach where patients can come in for various blood tests including STD testing & TB testing.
Looking healthy can be deceptive. In fact, being proactive about your health starts with knowing the true state of your health at its deepest level. Blood work is at the very heart of that knowledge, providing a wider and deeper view of the systems that keep your body running properly. But those tests can often be prohibitive because of the cost.
Our mission at ProHealth has always been to advocate for health in the communities we serve. Because we know many individuals living and working in the Fort Walton Beach area need blood testing, we have a convenient location available in the area.  Many do not have the time or the money to schedule tests with a hospital or traditional medical facility. We believe that the greatest service we can offer as medical professionals is to do our utmost to meet the needs of the community. The blood tests and health screenings we offer are more affordable and can usually be conducted on a walk-in basis.

Contact us for quality care at an affordable price.
Our Quality Blood Work Facility in Fort Walton Beach Offers Results
A rapid test provides results in a matter of minutes. However, lab-based tests require blood work samples to be sent to our testing facility partners so that they can be run through the lab. We send those results within 24-48 hours.
Our staff is knowledgeable, highly trained, and understanding.  Most importantly, we know that there are sometimes circumstances that require sensitive care and a gentle touch. Whether you need drug tests run for a new job or need to make sure that you're free of an STD or TB, we approach each patient in our care with the same level of respect and dedication to quality care. As a blood work facility in Fort Walton Beach offering affordable tests, we see countless new-hires sent in by their employers who want to confirm that they are drug-free as well as individuals who are concerned about disease. Regardless of their needs, we are here for them without judgment – only with a caring smile and a desire to help.
Please learn more about our testing services.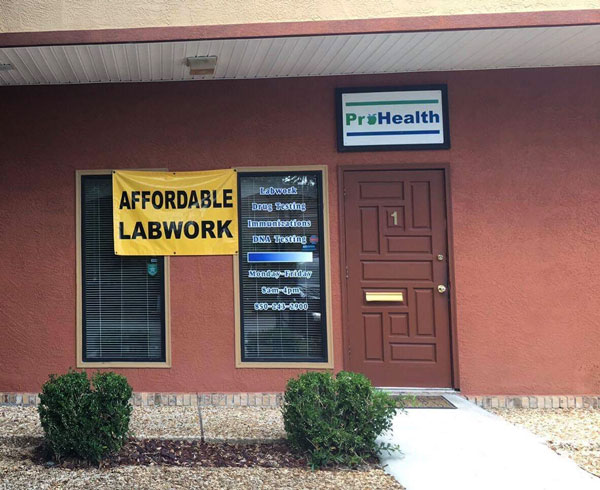 walk-in clinic services
ProHealth knows people need reliable access to medical care.  This is critical for everyone in the community - no exceptions. However, not all people have access to primary care. People often face obstacles like sky-high deductibles. Some do not have health insurance coverage at all. If this sounds like you, ProHealth walk-in clinics are here for you. You can have high-quality medical care. That is simply because ProHealth Medical Care is here to make sure you have all of the care you need and that you can afford it.
We offer two convenient locations, Gulf Breeze and Pensacola, Florida. If you need a doctor for any reason, you do not have to wait.  You can come to us full of confidence and peace of mind. You can call in advance, but appointments are not required.  We offer hours on weekdays to meet all of your needs. Both clinics are also open on Saturdays. Also, please look in to our ProHealth Medical Memberships.  These provide a great way for you to attain reliable and in-depth medical assistance.
Contact the blood work facility in Fort Walton Beach to learn more about the health screenings and blood test services we provide today!
11 Racetrack Rd. NE Suite D-1, Ft Walton Beach, FL 32547
Phone: (850) 243-2900  |  M-F 8:00am - 4:00pm
Services: Lab work, Drug & Alcohol Testing, Vaccinations, Occupational Health Testing, DNA Paternity Testing, Vitamin B12 & Lipotonix shots
FWB Health Dept. does not immunize, but ProHeatlh in FWB does!