Accuracy And Affordability Is Yours At A Blood Work Facility In Pensacola
Unfortunately, there are many people in the Pensacola area who need medical care of all kinds but are unable to afford it. At ProHealth, we have always made addressing that need our greatest mission. We've become known for offering a wide range of care including occupational health services. Because we know that blood testing is also a crucial part of healthcare, we also operate a blood work facility in Pensacola. Patients can come in for various tests including STD testing, DOT tests and DNA testing.
We know many individuals living and working throughout Pensacola need blood testing. But they may not have the time or the money to schedule tests with a hospital or through a traditional medical facility. As medical professionals, our goal and our purpose are to do everything in our power to meet the needs of the community. The blood tests and health screenings we offer are generally more affordable. Often, we can perform them for walk-in patients.
Contact us for quality care at an affordable price.
The Drug Test Results You Need, the Type of Care You Want
Our drug testing facility in Pensacola provides both rapid-result testing as well as lab-based tests. The type depends on what testing you need. Rapid tests take only a few minutes to perform and provide results in a matter of minutes. But we send blood work samples for lab-based testing to our testing facility partners to run through the lab. Results are then sent back within 24 to 48 hours.
As a blood work facility in Pensacola offering affordable drug testing services, we work with numerous new-hires sent in by their employers who want to confirm that they are drug-free. Also, we screen many individuals facing the serious concern of having contracted a disease. Regardless of the need or the reason that someone walks through our doors, we give them the same care and the very same respect. Our community's health is our priority. Offering kindness and understanding is one of the most important ways we can reach the community that so greatly needs us.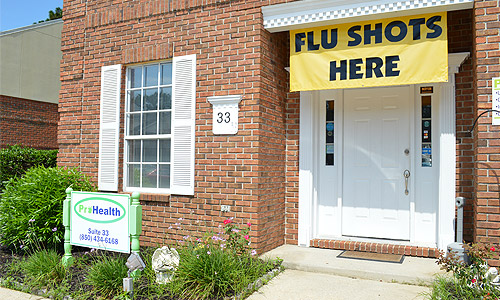 More than testing
At ProHealth, we offer a full range of high-quality medical care and services to the people of our community. Our commitment to quality care is high. We know that medical care can be difficult to afford, so we also offer a variety of affordable Medical Memberships. We offer these memberships at a cost designed to alleviate some of the financial strain that healthcare expenses can cause.
Memberships are created in such a way to provide lower-cost, fixed pricing to patients whose insurance might have a high deductible. Also, they help those who have no insurance of any kind. This process allows physicians to provide a greater degree of one-on-one care. You can purchase these membership packages can be purchased monthly or annually with predetermined fees and a set number of office visits built in. As a result of their structure, our team of doctors is better able to spend more time directly with their patients, and we can give our patients peace of mind in knowing that their care is going to be affordable to them.
3298 Summit Blvd Suite 33, Pensacola, FL 32503
Phone: (850) 777-3191  |  M-F 7:30am - 5:00pm
Service: Lab work, Drug & Alcohol Testing, Vaccinations, Occupational Health Testing, DNA Paternity Testing, Vitamin B12 & Lipotonix shots
Service With Heart
At our blood work facility in Pensacola, some of the many services we offer include:
DNA Paternity Testing
Drug Testing
Medical services
STD Testing
TB Testing
Vaccinations
Vitamin B12 Shots
Please learn more about our testing facilities here.
Contact the ProHealth blood work facility in Pensacola to learn more about the health screenings and blood testing services we provide today!