Accuracy And Affordability Is Yours At A Blood Work Facility In Pensacola
Unfortunately, there are many people in the Pensacola area who need medical care of all kinds but are unable to afford it. At ProHealth, we have always made addressing that need our greatest mission. We've become known for offering a wide range of care including occupational health services. Because we know that blood testing is also a crucial part of healthcare, we also operate a blood work facility in Pensacola. Patients can come in for various tests including STD testing, DOT tests and DNA testing.
We know many individuals living and working throughout Pensacola need blood testing. But they may not have the time or the money to schedule tests with a hospital or through a traditional medical facility. As medical professionals, our goal and our purpose are to do everything in our power to meet the needs of the community. The blood tests and health screenings we offer are generally more affordable. Often, we can perform them for walk-in patients.

Contact us for quality care at an affordable price.
The Drug Test Results You Need, the Type of Care You Want
Our drug testing facility in Pensacola provides both rapid-result testing as well as lab-based tests. The type depends on what testing you need. Rapid tests take only a few minutes to perform and provide results in a matter of minutes. But we send blood work samples for lab-based testing to our testing facility partners to run through the lab. Results are then sent back within 24 to 48 hours.
As a blood work facility in Pensacola offering affordable drug testing services, we work with numerous new-hires sent in by their employers who want to confirm that they are drug-free. Also, we screen many individuals facing the serious concern of having contracted a disease. Regardless of the need or the reason that someone walks through our doors, we give them the same care and the very same respect. Our community's health is our priority. Offering kindness and understanding is one of the most important ways we can reach the community that so greatly needs us.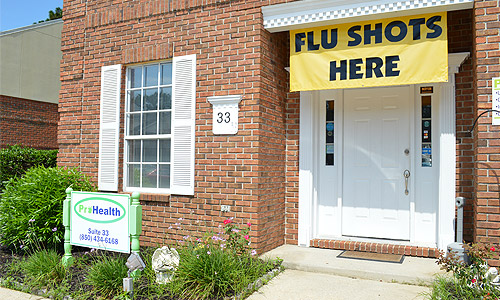 More than testing
At ProHealth, we offer a full range of high-quality medical care and services to the people of our community. Our commitment to quality care is high. We know that medical care can be difficult to afford, so we also offer a variety of affordable Medical Memberships. We offer these memberships at a cost designed to alleviate some of the financial strain that healthcare expenses can cause.
Memberships are created in such a way to provide lower-cost, fixed pricing to patients whose insurance might have a high deductible. Also, they help those who have no insurance of any kind. This process allows physicians to provide a greater degree of one-on-one care. You can purchase these membership packages monthly or annually with predetermined fees and a set number of office visits built in. As a result of their structure, our team of doctors is better able to spend more time directly with their patients, and we can give our patients peace of mind in knowing that their care is going to be affordable to them.
3298 Summit Blvd Suite 33, Pensacola, FL 32503
Phone: (850) 434-6168  |  M-F 7:30am - 5:00pm
Service With Heart
At our blood work facility in Pensacola, some of the many services we offer include:
DNA Paternity Testing
Drug Testing
Medical services
STD Testing
TB Testing
Vaccinations
Vitamin B12 Shots
Please learn more about our testing facilities here.
Contact the ProHealth blood work facility in Pensacola to learn more about the health screenings and blood testing services we provide today!
The Importance of Blood Testing
Whether you realize it or not, getting regular blood tests is critical to having a comprehensive picture of your health. Blood tests provide an analysis of your biochemical and physiological well-being and pinpoint certain medical issues that would otherwise go undiagnosed. They also evaluate the function of your internal organs. At ProHealth, we provide our patients with access to quick, efficient blood work lab results that are affordable and convenient; and our Pensacola location is known for the quality and accuracy of the tests we offer. Conveniently available on a walk-in basis, patients need not schedule an appointment or even have a physician's orders for our in-depth blood tests.
Test Results for Better Understanding
Blood test lab work provides patient and their physicians with a greater understanding of their specific health needs. Lab results provide a comprehensive view of many body systems and evaluate the level at which they function, testing areas of concern including:
Cardiovascular health
Kidney function
Liver function
Blood sugar levels
Hormone function
Immune system function
Blood test lab work provides the key benefit of offering a clear evaluation of which systems are functioning properly and which need attention and – perhaps – intervention of some kind. At ProHealth, we believe blood tests are part of being proactive about health and regaining control of your overall well-being. The results help determine areas of vulnerability and danger to developing conditions and illnesses such as heart disease, stroke, diabetes, anemia, liver disease and kidney disease. In being forearmed with such knowledge, we know that risks can significantly be reduced and sometimes even reversed.
Knowledge Is Power
Receiving routine blood work lab testing is also beneficial for the treatment of various health concerns as well as for the prevention of many diseases. Bone loss, changes in mood, excessive weight gain or exhaustion and even changes in your susceptibility to catching colds are all instances in which lab work provides invaluable insight into the underlying cause and how best to treat the issue.
At ProHealth, we offer blood test lab work conducted in an efficient, friendly manner by skilled, caring professionals. Our technicians retrieve a blood sample that is sent straight to the lab for assessment that provides results in periods ranging from one day to up to one week, depending on the type of testing. Our goal is to provide results as quickly as possible, and ProHealth has a reputation for offering our patients access to reliable and trustworthy blood work that is convenient and affordable.