ProHealth Medical Care Is Your Neighborhood Walk-In Clinic

Reliable access to medical care is critical for any and all human beings, no exceptions. The reality, however, is that not all people have access to primary care Providers. Many people have obstacles such as sky-high deductibles. There are also many who lack health insurance coverage entirely. If you are in any of these categories, you do not have to worry. You do not have to deprive yourself of high-quality medical care at all, either. That is simply because ProHealth Medical Care is on hand to accommodate all of your healthcare needs and beyond.
We are a trusted walk-in clinic that has convenient locations in both Gulf Breeze and Pensacola, Florida. If you need a doctor for any reason, you can always turn to us with full confidence and peace of mind. Although appointments are not necessary, you can call in advance. We are available on weekdays to tend to all of your needs. Both of our clinics are also available on Saturdays. ProHealth Medical Care has convenient memberships accessible to people who are interested in accurate, reliable and in-depth medical assistance.



Contact us for quality care at an affordable price.
2 Convenient Walk-In Clinic Locations
Walk-ins welcome no later than one hour prior to closing.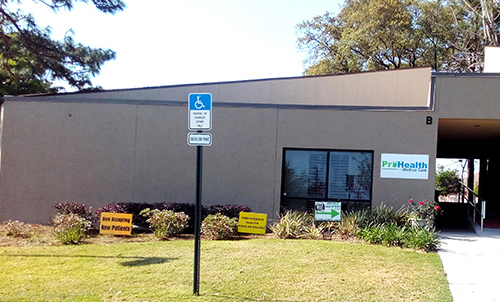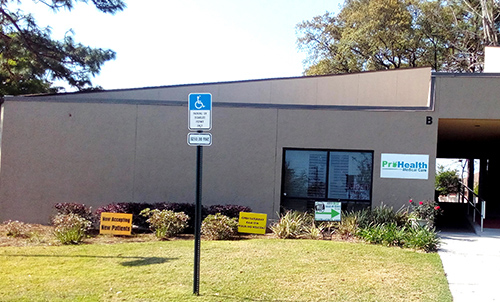 Pensacola + Medical Care
1100 Airport Blvd Suite B
Pensacola, FL 32504
Phone: (850) 549-3379
M-F 8:00am - 4:30pm
Sat 8:00am - 1:00pm
Walk-ins welcome no later than one hour prior to closing.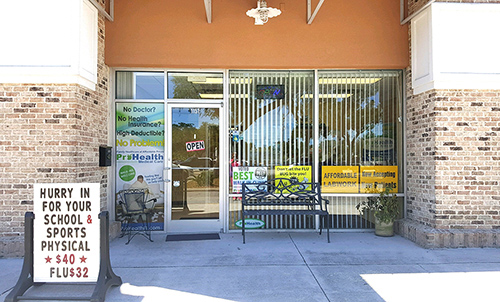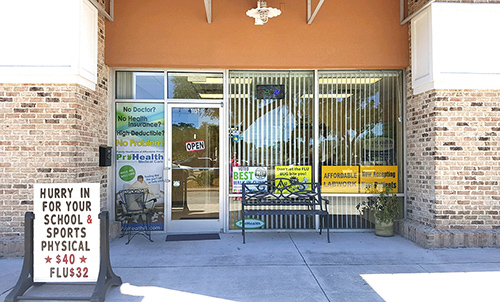 Gulf Breeze + Medical Care
1157 Gulf Breeze Pkwy
Gulf Breeze, FL 32561
Phone: (850) 677-0737
M,W,F 8:00am - 4:00pm
T, TH 8:00am - 2:00pm
Sat: CLOSED
Walk-ins welcome no later than one hour prior to closing
Paulette Krumel
Office Manager, Gulf Breeze Clinic
Paulette received her Practical Nursing degree at Virginia College with honors and a Business Administration degree from Bay Mills Community College with honors. She has experience working with Alzheimer's patients and their caregivers as well as in assisted living and hospice. She enjoys volunteering her time and talents to charitable events. Paulette also enjoys traveling and spending time with family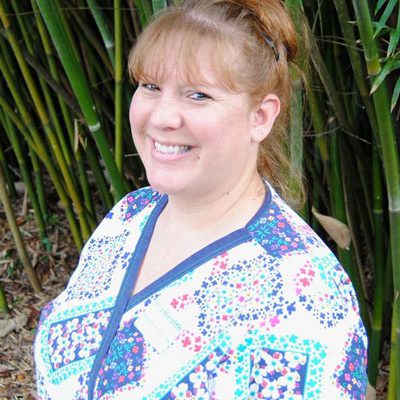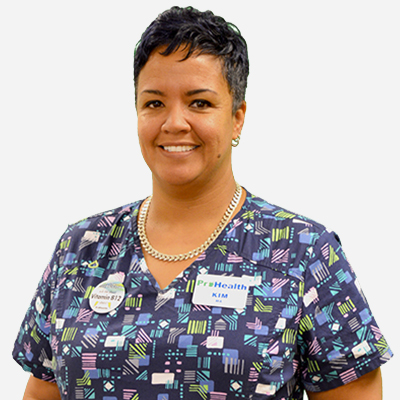 Kim Wells
Office Manager, Pensacola Clinic
Kim was born and raised in Pensacola. Like many Pensacola families she grew up with a dad in the Military. She went on to graduate from Capps Medical Institute in 2001 then started her career as a CNA in a nursing home. Kim has always aspired to be a caregiver and has worked in family practice for the past five years primarily focusing on Occupational Health. She is married with four grown children and four sweet grandkids.
Our Many Available Services
ProHealth Medical Care can assist patients with all different types of concerns. We specialize in minor medical emergencies such as abrasions, cuts, sprains and strains. If you fell hard on your knee and need prompt medical attention, we can provide it for you. We specialize in medical matters that are non-emergencies. If you have a sore throat, flu or cold, we can help you take care of the issue. Our clinics, last but not least, also specialize both in lifestyle and disease management. Patients who have any worries that involve medical conditions such as high cholesterol, high blood pressure, and diabetes can count on our expert care. We routinely work with patients who have chronic ailments in general. If you are searching for a trustworthy clinic that can provide you with the efficient and well-rounded healthcare you need and deserve, you can turn to ProHealth Medical Care without any concern whatsoever.
Abrasions
Bug bites and stings
Burns
Minor cuts and lacerations
Minor wounds
Splinter removal
Jellyfish sting
Joint sprains
Sunburn and heat exposure
And much more!
Abscess

Athlete's Foot

Allergy Symptoms

Arthritis and joint pain

Asthma

Bronchitis

Burns

Blisters

Children's Health

Cold and Flu

Constipation

Cough

Diarrhea

Ear Infections / Pain

Ear Irrigation

Ear wax removal

Eye Infections

Headache

Heartburn

High blood pressure

High cholesterol

Insect Sting/Bites

Injections

Joint Pain

Nausea or Vomiting

Nebulizer Treatment

Nosebleed

Mononucleosis

Pinkeye and styes

Puncture Wounds

Sciatica

Shingles

Sinus Infections

Infections / Rashes

Sprains / Strains

Sore or Strep Throat

Stitches

Stomach issues

Suture and staple removal

Toenail Removal

Urinary Symptoms

Urinary Tract Infection

Wart Removal

Women's health

Skin conditions including acne and rashes; exposure to poison ivy and ringworm
And much more!
Diabetes

Hypertension

Heart Disease

Irritable Bowel Syndrome

Migraines

Metabolic Syndrome

Obesity

Allergies

Arthritis

Asthma

Women's Health

Stroke

STDs

Osteopenia

Peptic Ulcer Disease

Chronic Obstructive Pulmonary Disease

Gastroesophageal Reflux Disease

Back Pain

Chronic Kidney Disease

Coronary Artery Disease

Depression and Anxiety
Other Available Specialties
ProHealth Medical Care is a walk-in clinic that has a reputation for excellence and hard work. Our team members strive to give patients medical care that's in-depth, comprehensive and exhaustive.
Some notable examples of our diverse and abundant services and specialties are:
It does not matter if you need a reliable pregnancy test or if you need routine blood work. You can trust our expertise, knowledge, and skills 100 percent. Our top goal as a clinic is to provide all of our patients with friendly, supportive and warm medical care environments at all times. It is to provide all of our patients with a real sense of comfort as well. If you need medical care, you can always depend on us to deliver for you. You can always depend on our team to get you on the right path. We work with patients with all different kinds of medical conditions. We work with patients of all ages, too. We welcome everyone with open arms here, and that is how it has been since the beginning.
Our In-Depth Membership Programs
We are a clinic that provides patients with numerous in-depth choices in medical memberships. We have programs that cater to businesses. We have programs that cater to families and individuals as well. Our business membership programs can be suitable for employees who wish to minimize healthcare costs. They can serve as supplements that can reduce insurance claims and insurance premiums, too. There are many benefits associated with our business membership programs. These benefits include complimentary flu vaccines. If you want a free vaccine, we will visit your workplace to give it to you. Our business membership programs are optimal for companies that are interested in discounts, unlimited visits, and low copays.
Our membership programs for families and individuals are just as convenient and advantageous. These programs can be lifesavers for people who simply don't have health insurance. They can also be lifesavers for those who have concerns that involve frustrating rate increases. If you want to do anything you can to lower your medical care costs, these programs can aid you significantly. These programs are suitable for people who want access to discounts, low copays, and free flu vaccines.
Get in Contact with ProHealth Medical Care as Soon as Possible
ProHealth Medical Care is a walk-in clinic that's a prominent name in the region. Our patients know they can trust us to provide them with the highest level of medical care no matter what. They believe in our doctors. They believe in our caring nurses and team members in general. We have been a reputable clinic for more than 6 years. We have been happily accommodating Northwestern Florida patients during that time. We are a family-run business that always takes an empathetic and sensitive approach to medical care. Our staff members are all courteous, patient and detail-oriented professionals who aim to please. It does not matter if you visit us to take care of a common cold. It does not matter if you come to see us with a painful sprain. We will always give you everything we have. That is not an overstatement, either. You do not have to think twice about unpleasant wait times at ProHealth Medical Care. Our wait times tend to be brief.
If you are interested in first-class medical care that also happens to be budget-friendly, you can turn to ProHealth Medical Care with every bit of confidence in the world. We are a respected walk-in clinic that caters to patients in Gulf Breeze, Pensacola, and surrounding communities. We are proud to provide patients with access to all types of economical services. Call us as soon as you can to learn more about our available procedures and treatments. Visit us at any time to receive medical attention that's focused, meticulous and exhaustive as well. We want to help you get on track to glowing health today. We want to do the same for your entire family, too.