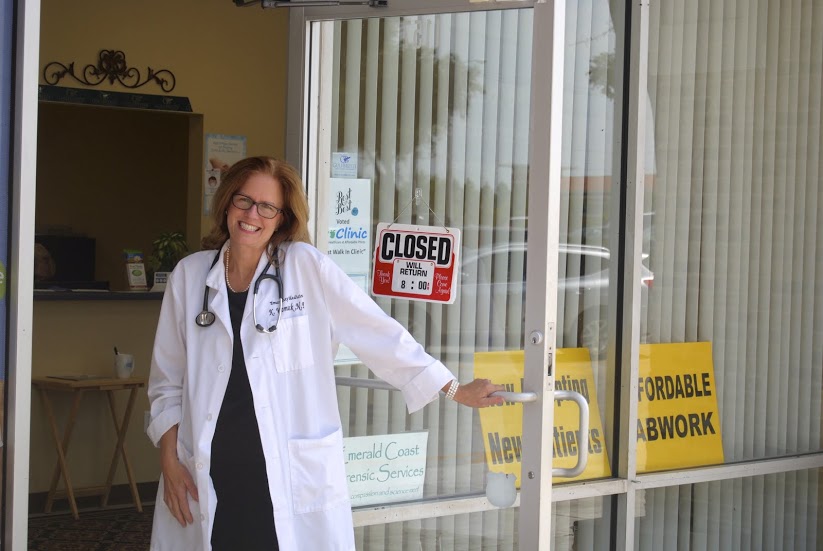 Some might see a mother of three children, Kelly, Erin and Bryce; while others know her as a Connecticut-raised Irish woman who moved to Gulf Breeze just a mere 12 years ago. Some people recognize her as a loyal American serving in the US Air Force for 9 years, while others know her as their family's primary care practitioner.
Many don't know the numerous titles Kimberly Womack holds in this community or the inspirational path this mother of three is paving
internationally.
                She was recently elected as the president of the International Association of Forensic Nurses (IAFN). She first learned about the IAFN after completing her Sexual Assault Nurse Examiner (SANE) training. Womack has been on the IAFN Board of Directors for the last 4 years and is the elected president for 2015. Every spring the group meets in Washington DC for a board retreat. The last 2 years, they have lobbied local congressman on important issues surrounding Forensic Nursing. This year Womack had the opportunity to speak to the staff of Senator Marco Rubio, Representative Jeff Miller and Senator Bill Nelson about Sexual Assault Examinations in the Military, the refunding of the Violence Against Women Act, and Nursing Education and Research.
                "As part of the leadership and president elect of the IAFN, my ability to serve our members and influence the future of forensic nursing worldwide is an incredible honor and responsibility that I do not take lightly," Womack said, "Working within the forensic nursing community locally and internationally has been a life altering experience."
                Womack was asked to go to Chicago to represent the IAFN to support the film, "Private Violence," in its screen debut last November.  The film is about domestic violence and it was the forensic nurse in the ER that ultimately saved the woman's life and secured the needed evidence to put her husband in prison. Womack gave the film's invitation and donated $5000 on behalf of the IAFN.  The film was shown at the Sundance Film Festival this past January and aired on HBO in June.
Womack realized she wanted to be a nurse in 1998 when nurse practitioners just began working in emergency rooms. After working closely with a nurse practitioner in the emergency room setting, she was inspired to apply to Northeastern University in Boston. Womack started only a few months later.
                Today, she can be found at ProHealth Medical Care in Gulf Breeze treating primary care and minor emergency care needs, without requiring insurance, for local residents and beach tourists. "As a medical provider at ProHealth Medical Care, I help patients stay well or manage their illnesses and injuries. I love that my profession allows me to help patients reach their health potential, in good and bad times. Sometimes, the medical community can forget that our patients allow us to be a part of their lives, and that is an honor," Womack said.  
                One of Womack's favorite experiences at ProHealth Medical Care was with a patient who had a lump on her left breast. "It was so painful," Womack remarked, "she could no longer lift her arm." The patient endured this pain for a year and a sore had began to grow. She was uninsured and had not seen a healthcare provider in a long time. "The patient had breast cancer.  We were able to arrange for a surgical consultation and follow-up. We were the only place she could afford to come to. We made a big difference that day," Kimberly Womack explains.  
                When Womack  left the ER after 26 years to join ProHealth Medical Care, she also left behind their sexual assault program.  "I was hopeful to start a program separate from the ER and Danette Krumel, owner of ProHealth Medical Care, made it happen. She saw on my CV that I was a forensic examiner and asked what it was all about. I explained to her that there were very few forensic examiners in this area and that there was no formal programs at any of the local emergency rooms.  Danette did her own research and then approached me about starting up Emerald Coast Forensic Services. The rest is history," explains Womack. Emerald Coast Forensic Services provides sexual assault forensic examinations in the two county area and provides sexual assault forensic education and training locally to hospitals, EMS, the military and the community. A contingent of US Air Force nurses from Yokota Air Base, Japan, came to Gulf Breeze for training last year, as well as others from across the country.
                Womack is the director of ECFS, but she is also a forensic examiner, which allows her to care for patients of sexual assault. Womack loves teaching the 40-hour SANE course twice a year here in Gulf Breeze.
                Like many mothers, Womack wears various hats on a daily basis. And, at the end of the day, she is simply a caring mother with a passion to help those in need  and obtain justice.
To find out more information about Emerald Coast Forensic Services or ProHealth Medical Care, call our Marketing Department today at 850-434-6168 x 6 today. To schedule your next ProHealth Medical Care office visit, contact us at 850-549-3379 in Pensacola or 850-677-0737 in Gulf Breeze.
Keep your family healthy this fall at ProHealth Medical Care!