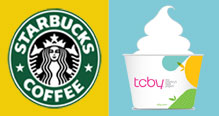 Our news for you today is short and SWEEEET!
Here's the skinny: the vast majority of people who come through ProHealth Medical Care hear about us from a friend.
We thought to ourselves, 'Those are good friends and we want to thank them!'
So, anytime you (yes, YOU!) pass along one of our ProHealth Medical Care cards (which also gives them a $10 discount) we'll send you (yes, YOU!) a $5 giftcard to either Starbucks or TCBY. Your pick.
Good for coffees, teas, pasteries, soft serve (5 cones of it, if you go for Waffle Cone Wednesday) and so much more!
Just write your name on the Clinic card and whether you'd prefer to sip on a Frapachino or have a cone of fro-yo and it'll be in the mail before you can say, "I just told a friend where they can see a doctor for a ridiculously low price AND won a delicious giftcard!"
Pretty sweet.