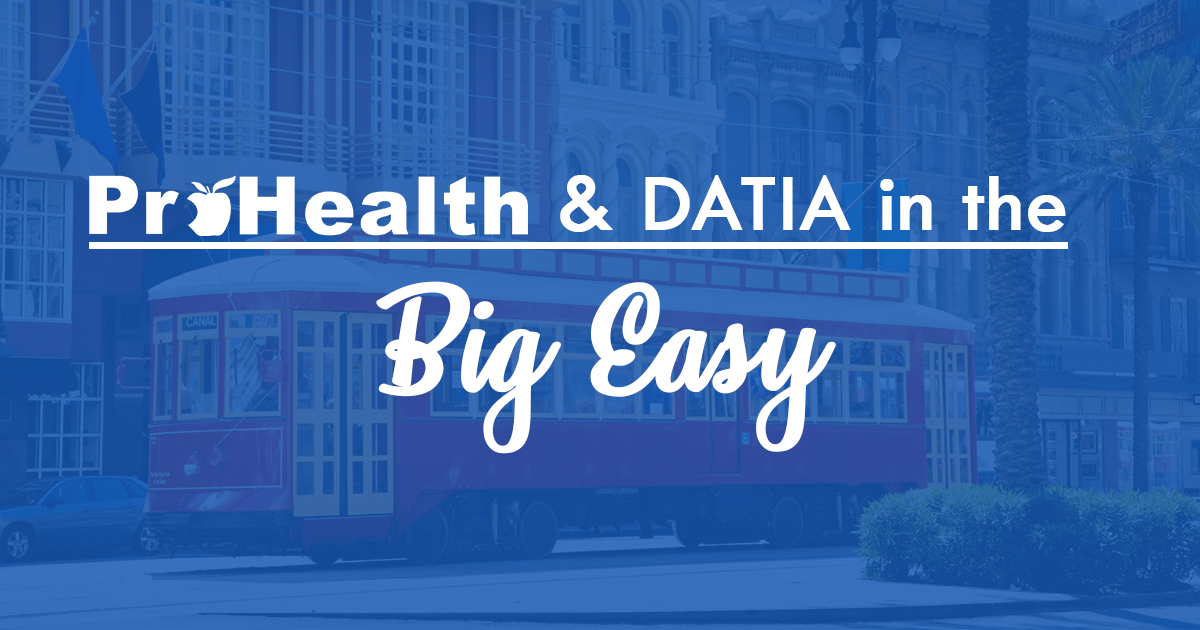 The folks at ProHealth understand that in the healthcare testing industry, nothing is ever stagnant. Concepts, policies, procedures, and new ideas are always surfacing and changing, sometimes on a daily basis. This is why we put so much value in continuing to learn and grow, even after schooling is over and the job is landed. We know that keeping our knowledge and training up to date is vital if we expect to provide the best care possible for our patients.
The Conference
In order to stay in the loop, we attended the annual Drug & Alcohol Testing Industry Association (DATIA) conference in New Orleans, LA in May of this year. Not only were we surrounded by delicious food and very unique culture, we spent 3 days at this conference in the Big Easy with over 800 other attendees & 85 exhibitors. While at the conference, we were offered 25 educational sessions, as well as pre-and post-conference training. This conference is THE hot spot for hundreds of drug & alcohol testing professionals to gather for learning & discussion. It offers exhibitions regarding regulations, ethics, safety, and a variety of information pertaining to successful business management. We were able to attend discussions regarding some pretty big headlines, including new DOT and HHS drug testing regulations, the opioid crisis, and how the gradual legalization of marijuana is impacting the workplace. We also got first hand access to some pretty awesome, cutting-edge technology and had the opportunity to access some stellar networking opportunities. Overall, it was a fantastic weekend!
About DATIA
A little back story on the conference itself: DATIA was founded in 1995 and now represents over 1500 member companies. They also now represent the entire spectrum of drug & alcohol testing services, including collection sites, labs, consortia/TPAs (third party administrators), MROs (medical review officers), and equipment manufacturers. DATIA makes a point of promoting high standards in the drug and alcohol testing industry, and oversees the education, certification, and accreditation programs related to it. They're a loud voice in the regulatory & legislative departments, and are constantly taking in new information and turning that into new ideas for those of us on the front lines of this particular form of health care.
Why We Go
What does this have to do with you, and why are we boring you with these details? Because we did it all FOR YOU!! All of the learning and all of the networking and all of the playing with new technology we did was so WE can take better care of YOU. When you come to ProHealth, we want you to get the BEST care we & the healthcare industry can offer. Attending events like the DATIA conference enables us to do just that.
What We Learned
Now that we've come home and dusted off the travel & conference dirt, we're tweaking some of our own practices to make sure we're up to date and putting our best foot forward. First, we are updating our training materials to reflect new regulations and best practices for drug testing collections. This will ensure our employees are up to date on all the newest procedures and rules for their respective professions. We are also adding oral drug testing as an option for our clients and expanding the use of FormFox, the newest platform for drug testing in the industry. These two tools will broaden our horizon in the drug testing field and give our clients more choices when it comes to drug testing, as well as streamline our testing and processing. Thanks to DATIA, we're armed with the newest ideas and information in the drug testing industry. We can't wait to get to work and apply everything we learned in the Big Easy!