Student Physical Examinations at ProHealth
If you are a student in need of a reliable physical examination, you can depend on ProHealth any time you want. Student physicals are often necessary for enrollment in educational institutions. They are frequently necessary for student health records as well. Students often need to receive examinations for purposes beyond simple enrollment as well. If you are a student, you may need to get a physical exam for participation in extracurricular activities such as Scouts, summer camp, and band. Our student physicals assess medical backgrounds. They aim to pinpoint signs of potential health issues before they get the opportunity to intensify as well. Students can receive physical examinations at our Pensacola, Gulf Breeze, Milton and Fort Walton Beach locations. Our Providers can analyze your overall health and existing fitness abilities. They can analyze your possible chances of injury, too. Our goal is to help students approach education and sports participation with full confidence, ease, and comfort at all times.

Contact us for quality care at an affordable price.
Annual and Sports Physical Examination Available
ProHealth is a respected medical care company that caters to patients in beautiful Northwest Florida. If you need an in-depth annual physical exam in Northwest Florida, we can accommodate you. If you need a sports physical in the region, we can do the same. We offer people annual physicals that are suitable for all kinds of purposes. Yearly physicals are often necessary for employment and education. Sports physicals, on the other hand, are often required for safe participation in athletic activities. We specialize in comprehensive and exhaustive physicals that carefully and meticulously assess patient health and overall condition. We have knowledgeable medical staff who cautiously evaluate all of our physical examinations. They do this to guarantee that they accommodate any and all appropriate practices. It does not matter if you need a men physical exam or if you need a woman physical exam. ProHealth can come to your aid.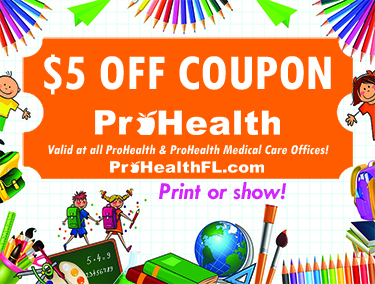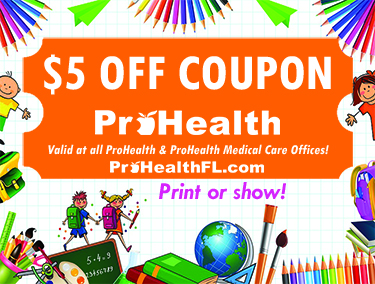 Annual Physical Examinations at ProHealth
We offer annual physical exams that assess numerous different components in patients. Our exams delve deep into patients' medical backgrounds. Patients typically have to answer questions that relate to fitness, eating habits, sexual health, and smoking. Our Providers also assess vital signs such as heart rate, blood pressure, temperature, and respiration rate. They pay attention to patients' physical appearances. Our Providers focus on patient complexions, mobility and beyond. They even concentrate on alertness and memory. Our yearly exams cover all the bases.
We Provide patients with all sorts of necessary tests. We examine:
Skin
Extremities
Head
Neck
We even assess neurological health in patients. We concentrate on everything from mental state to muscle strength.
Female Physical Examinations
Our female physical exams are all-encompassing and meticulous. Our Providers may assess your pelvic area and breasts. If they notice any unusual lumps on your breasts, they will evaluate the possibilities of breast cancer. Some innocuous conditions can lead to the presence of bumps in the breast area as well. Our Providers may test you for the presence of any STDs (sexually transmitted diseases). Our HPV (human papillomavirus) tests look for signs of cervical cancer in patients. Our pap tests do the same thing.
Male Physical Examinations
Our male yearly examinations are just as extensive. We offer testicular exams that look for conspicuous size changes, tenderness and bumps. We offer exhaustive prostate, penis and hernia exams as well. These examinations assess patients for all sorts of things. Our prostate exams focus on prostate size. Our penis exams assess patients for signs of sexually transmitted diseases. Potential STD signs may include penis ulcers and warts. Our hernia exams, last but not least, concentrate on abdominal wall strength.
Laboratory Tests
ProHealth provides patients with an abundance of choices in laboratory tests. Routine blood tests are critical for the accurate analysis of physiological and biochemical health. We specialize in lab tests that can evaluate the functioning of the internal organs. These tests can pinpoint health conditions in patients as well. If you are ever in need of detail-oriented, thorough and inexpensive laboratory tests in Northwest Florida, ProHealth can happily save the day for you.
ProHealth: Your Go-To Examination Destination in Northwest Florida
ProHealth specializes in high-quality pre-employment physicals that are suitable for people who are getting ready to take on brand new positions and careers. Our Providers are certified with the DOT registry and specialize in DOT physicals. Our DOT (Department of Transportation) physicals identify physical, emotional and mental matters that may influence worker performance and safety. If you need any high-quality physical in Northwest Florida, ProHealth can help you. Visit or contact ProHealth as soon as you can to learn about our many trustworthy choices in yearly physicals and to make an appointment.