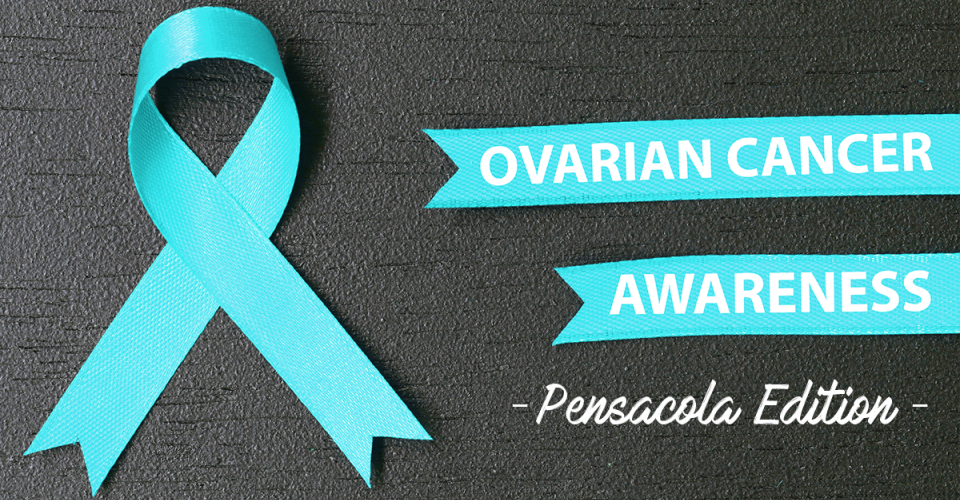 The month of September is National Ovarian Cancer Awareness Month! We strongly believe that awareness leads to meaningful action. Local groups and companies in Pensacola are making an effort to bring awareness to this disease through various fundraising and awareness efforts. Before we get to our list of ovarian cancer supporters in Pensacola, let's first take some time to understand what it is and who it affects.
The Facts & Symptoms
According to the Massachusetts Ovarian Cancer Awareness Coalition, ovarian cancer is one of the most deadly of women's cancers.
It is estimated by the World Health Organization IARC department that there are over 238,000 new cases diagnosed annually with nearly 152,000 deaths worldwide.
Ovarian cancer typically occurs in women in their fifties and sixties with the median age of sixty three.
Many women who are diagnosed with ovarian cancer have a genetic history that may include carrying the BRCA mutation gene or having a family history of ovarian cancer.
Ovarian cancer has always been thought of as a symptomless disease. However, studies have shown that it is in fact not silent, although warning signs are subtle. Even during the early stages, ninety percent of women with ovarian cancer report symptoms. While ovarian cancer can be difficult to detect early, there are four symptoms that women should be on the lookout for:
Significant bloating
Pelvic and abdominal pain
Difficulty eating or feeling full quickly
Urinary symptoms such as feelings of frequency or urgency
The aforementioned facts and symptoms can seem quite…scary. Especially, if you are a woman in her sixties with a daunting family history. You might want to do what you can to protect yourself or somebody you know who could be vulnerable to this disease. Thankfully, there are quite a few resources right here in Pensacola that you can tap into!
The Redneck Riviera Chapter of Wonderful Wacky Women is a non-profit that was formed in 2009 with a mission "to promote health and wellness, awareness for Ovarian Cancer, and to raise funds to help in research of cancer." Their efforts benefit the Sacred Heart Cancer Center in Pensacola and USA Mitchell Cancer Institute in Mobile.


Krewe of Vixens, KOV, is a nonprofit organization dedicated to providing financial, emotional, and educational support services of individuals with ovarian cancer. We support women of all ages, in all stages of ovarian cancer, along with their caregivers, offering knowledge, encouragement and friendship.
With your support, KOV will help fund the best and most promising Ovarian Cancer research efforts while supporting women and their loved ones affected by the disease in our quest to end this terrible disease. For more information on events and membership, click HERE!

Ovarian cancer hits close to home for the Newk's family. Lori Newcomb, wife of co-founder and CEO Chris Newcomb, was diagnosed with Stage IIIC ovarian cancer in early 2013. Her story is all too familiar for many women, as one in 70 will develop this disease.
This is why they started the Newk's Cares initiative, inviting guests to join the search for a cure by adding a dollar or more to their purchases at the register. Our goal is to improve the rate of early diagnosis by funding research and creating greater awareness about the early symptoms of ovarian cancer. Everyone at Newk's Eatery is committed to supporting ovarian cancer research and awareness, and with your support, they are able to give every woman a fighting chance.

The graffiti bridge serves as a public, urban canvas for anyone with a paint brush and a cause. This bridge is painted every, if not multiple time per, day. Locals are able to spread awareness through the Pensacola Graffiti Bridge Project, specific to Ovarian Cancer Awareness Month, with messages, in teal, of; "fight like a girl."
In addition to attending, supporting or funding various awareness efforts, the most important stand you can make is with knowledge. Take care of your body, stick with your regular check-up routine, and know the early signs that can be the difference between life and death.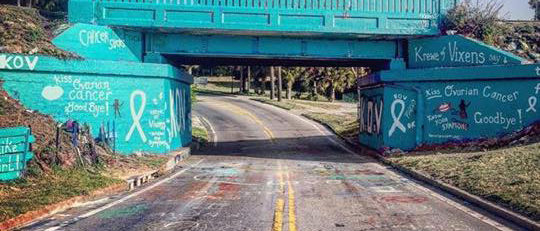 Picture from the Krewe of Vixen's Facebook page.
Be Proactive!
ProHealth offers the CA-125 test. A CA-125 test measures the amount of the protein CA-125 (cancer antigen 125) in your blood. It is found in greater concentration in cancer cells, particularly ovarian cancer cells and may show early signs of ovarian cancer in women. A doctor's order is not required, and cost as low as $55 at any ProHealth location.