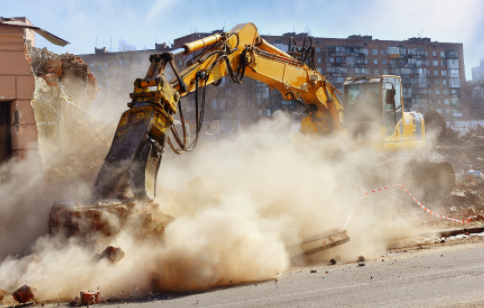 It's never easy dealing with government regulations as a business owner. In fact, some regulations are downright headaches. However, we must keep in mind the intention of these regulations is to improve workplace safety. In 2017, the Occupational Safety and Health Administration (OSHA) put into effect OSHA 1926.1153 which regulates for crystalline silica dust exposure. This article is designed for business owners and supervisors to further your knowledge of silica dust exposure and how these new rules affect your business and employees.
What is crystalline silica?
According to the National Cancer Institute, Crystalline silica is a basic component of stone, soil, sand, granite, concrete, brick, mortar, and other construction materials. Quartz, cristobalite, and tridymite are the most common forms of crystalline silica and all three can be taken in by breathing when workers chip, cut, drill, or grind objects.
How is crystalline silica hazardous?
Silica dust is hazardous when very small, respirable particles are inhaled. These particles can enter the lungs and cause the formation of scar tissue, reducing the lungs' ability to take in oxygen. According to the United States Department of Labor, health effects from silica exposures include:
Silicosis, an incurable, disabling and sometimes fatal lung disease caused by breathing in tiny bits of silica
Other non-malignant respiratory diseases, such as chronic bronchitis
Lung cancer
Kidney disease, including nephritis and end-stage renal disease
Increase the risk of TB (latent tuberculosis) infection
May be associated with autoimmune disorders and cardiovascular disease
What are the symptoms of silicosis?
Silicosis is classified into three types: chronic/classic, accelerated, and acute.
Chronic/classic silicosis, the most common, occurs after 15–20 years of moderate to low exposures to respirable crystalline silica. Symptoms may or may not be obvious; therefore, workers need to have a chest x-ray to determine if there is lung damage.
Accelerated silicosis can occur after 5–10 years of high exposures to respirable crystalline
silica. Symptoms include severe shortness of breath, weakness, and weight loss.
Acute silicosis occurs after a few months or as long as 2 years following exposures to extremely high concentrations of respirable crystalline silica. Symptoms include severe disabling shortness of breath, weakness, and weight loss, which often leads to death.
Who is exposed to crystalline silica?
According to OSHA, more than 2.3 million workers in the United States are potentially exposed to crystalline silica dust with nearly 90% of those workers employed in the construction industry. Activities that may result in severe exposure include:
Jackhammering
Rock/well drilling
Concrete mixing
Concrete drilling
Brick and concrete block cutting and sawing
Tuckpointing
Tunneling operations
Abrasive blasting…which is done to clean and smooth irregularities from:

Molds
Jewelry
Foundry castings
Finished tombstones
Etched or frosted glass
Objects needing to be repainted or treated
Other exposures to silica dust occur in jobs such as:
Steel and foundry work
Maritime work
Jewelry production
Ceramic manufacturing
Installation and repair
Railroad track maintenance
Hydraulic fracturing for gas and oil
People who work with glass, paint, pottery
Dental laboratories
Prevention method for employers:
According to the United States Department of Labor, where possible, silica should be eliminated or substituted with safer options. Engineering controls should be considered such as using exhaust ventilation, containment methods (i.e. blast-cleaning machines), and wet sawing/drilling of silica-containing materials. Administrative actions may include limiting workers' exposure time and requiring workers to shower and change into clean clothes before leaving work. Personal protection equipment is the least desirable, but may still be effective. These include wearing proper respiratory protection to keep workers' exposure below the OSHA permissible exposure limit and the use of personal protective clothing.
OSHA's stand to protect employees:
OSHA issued a final rule to curb lung cancer, silicosis, chronic obstructive pulmonary disease and kidney disease in America's workers by limiting their exposure to respirable crystalline silica. They are estimating that the rule will save over 600 lives and prevent more than 900 new cases of silicosis each year, once its effects are fully realized. The final rule is projected to provide net benefits of about $7.7 billion, annually.
ProHealth offers Silica Medical Surveillance!
OSHA requires that employees who are exposed to certain levels of silica dust undergo a medical surveillance exam. Medical screening allows for early identification of exposure-related health effects. ProHealth offers the required Silica Medical Surveillance exam that includes:
Physical exam
Spirometry testing
Respirator fit testing
Medical clearance
TB skin test
Chest X-ray 1-view
By providing medical exams for employees, employers are complying with OSHA regulation and providing protection to the workers at risk of silica dust exposure. We are here for you in this process! Please contact our Senior Account Manager, Megan Seifert, if you have any questions by emailing megans@prohealthfl.com or calling (850) 554-9084.