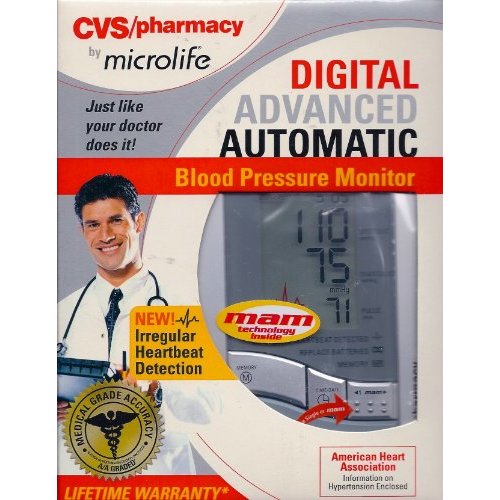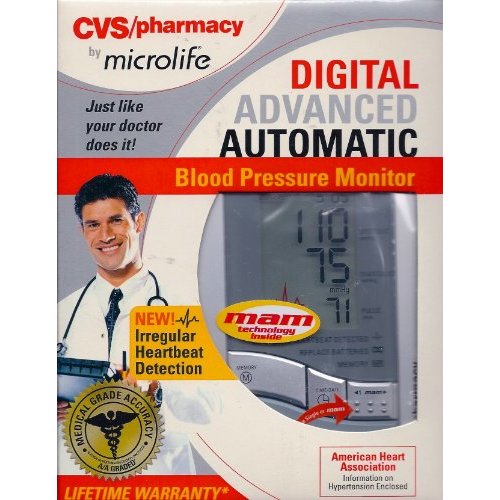 If you have high blood pressure, it should be checked on a regular basis – especially if you are taking medication for it. For many people, taking high blood pressure medication will be a lifelong treatment, so investing in an accurate home blood pressure machine, such as the one pictured left, is well worth it.
In order for your provider to determine the best treatment for you, it is important to know what your blood pressure is throughout the day. Without that information, we are making treatment decisions based on "one moment in time"; and readings, although accurate, are often higher in the medial office than the average throughout the day. Some people will have a phenomenon called "white coat hypertension" which is an elevated blood pressure due to nervousness associated with being in a medical office. If those numbers are used to adjust medication, it could cause blood pressure to be too low throughout the day and that can make one feel tired, weak, dizzy and potentially be life threatening.
I recommend a home machine for all my patients with hypertension with the following instructions.
A good quality machine can be obtained for around $60 and anything more expensive usually includes unnecessary "bling". It should be the kind with an arm cuff if possible. If your arm is too big for the standard cuff, the larger cuff needs to be purchased. Many of the wrist cuffs are not as accurate but there are a few good ones out there if an arm cuff machine won't fit. See recommendations below.
Blood pressure should be checked at different times of the day. I tell my patients, who appear to be fairly well-controlled, to check 10-15 times a month and vary the times. One day, check in the morning; and a few days later, check in the afternoon or evening. More frequent monitoring may be recommended if your condition is not controlled and medication adjustments are being done. Checking several times a day is never indicated; if that's needed then you should be in the hospital!
Keep a log that includes date, time, blood pressure and pulse (which is given by almost all machines). Also include notes pertinent to blood pressure, like missed medication doses, changes in medication, significant stress or illness. This log should be brought into all follow-up visits. Additionally, your machine should be brought in with you to check its accuracy at least once.
Consumer Reports tested blood pressure monitors with ratings of at least 80 and less than $70 (Prices not guaranteed and offered through CR for reference):
CVS Advanced Automatic (BP3MV1-1ECVS Item#800230) $60
Walgreens Deluxe (WGNBPA-540) $65
Omron 5 Series (BP742) $60
Rite Aid Deluxe Automatic (BP3AR1-4DRITE) $60
ReliOn (HEM-741CREL) Walmart $40
Omron 7 series (BP652) $60 **wrist cuff
Rite Aid Automatic (RC210) $50 **wrist cuff