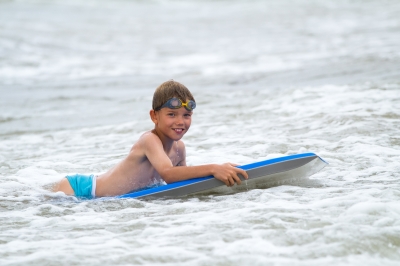 Ah, sweet summertime on the Gulf Coast. Long, lazy days spent relaxing in the sunshine, vacationing, and venturing outdoors. It's hardly a time to be worrying about trips to the doctor. But did you know that medical experts often refer to summer as "trauma season"? This is because injuries among children 14 and under increase dramatically during this time. The following tips can help you be more prepared to avoid these common but potentially serious summer injuries.
1. Burns – From backyard barbeques to bonfires, summer heat is all around us. Finding age appropriate ways to keep children away from hot surfaces and fire is crucial. Make sure older kids practice match and lighter safety, and don't let younger kids roast their own hotdogs or cook without parental supervision. Establishing "NO zones" around the stove and iron could keep little ones away from indoor occurring burns.
2. Falls – Let's face it – kids fall. Sometimes a lot! According to Safe Kids Worldwide, unintentional falls are the number one cause of non-fatal injury for children. Make sure your kids have proper footwear for all outdoor activities. Sandals and sneakers should be snug (but not too tight) and laces should be tied and tucked in. Pad sharp corners on tables or countertops so little kids won't be hurt if they fall into them.
3. Cuts – Summer is perfect for outdoor sports like biking, skateboarding, and hanging at the playground. With so many fun activities, it's very likely that your child will suffer a cut this summer. Dodge cuts and scratches by wearing proper gear like helmets, knee pads, and gloves when rolling around on a bike or scooter. Wash minor cuts with soap and water right away to prevent infection, and monitor bleeding to determine if your child will need stitches.
4. Heatstroke – A fun day in the sun can quickly turn dangerous if your child gets overheated. Heat exhaustion can easily turn into heatstroke, which can cause intense headache, confusion, and even seizures. Prevent heat exhaustion and heatstroke by making sure your child is well hydrated. Avoid playing outside during the hottest hours of the day, and teach young ones to come inside immediately if they feel too hot.
Make your summer memories outdoors along the beautiful coast, not at the doctor's office. Injuries can be scary, and prevention is your best form of keeping your child healthy. If your child does end up having an injury that's a little more than you can handle, rest assured that ProHealth Medical Care can help. We offer $59 office visits, same day appointments (even on Saturdays!), short wait times, and friendly, professional medical staff in Gulf Breeze (850.677.0737) and Pensacola (850.549.3379).
To view our sources and find more information on preventing summer injuries, visit SafeKids.org and KidsHealth.org. Photo courtesy of FreeDigitalPhotos.net.