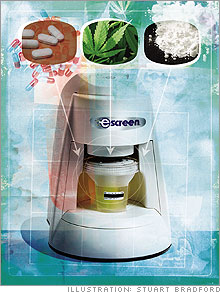 Did you know that the State of Florida amended its regulations on drug-free workplace drug testing to permit rapid, onsite drug screening?
Translation: faster results on employee drug testing.
This eScreen technology has 5 big pro's for your workplace:
1. "No" in a flash: Rapid drug testing technology sends a negative test result to your computer within 10 minutes of the employee taking the test.
2. Go Green: Sending an electronic chain of custody form means eScreen testing leaves no paper trail.

3. Urine samples are tested under seal, by a computerized program to eliminate human error, subjectivity and to protect the employees' confidentiality.
4. Faster result turnaround time with eScreen means employers can make immediate hiring decisions
5. Following Florida state law, all "non-negative" eScreen samples will be confirmed by a SAMHSA-certified laboratory and a Medical Review Officer prior to the final report.
ProHealth can help you develop a drug testing program to meet your specific needs, whether lab based or instant solution.