[Updated May 11, 2020]
WE REMAIN OPEN
We're open and ready to serve you, the community we love. Rest assured that our offices have always taken safety precautions that go above what the CDC recommends. We value the health and safety of our community above all else.
STILL OFFERING TELEMEDICINE!
We are offering Telemedicine, a service where you can consult with a licensed healthcare provider from the comfort of your own home. This service will be available during our regular office hours.
Call 850-549-3379 to schedule a phone appointment today!
BACK TO REGULAR HOURS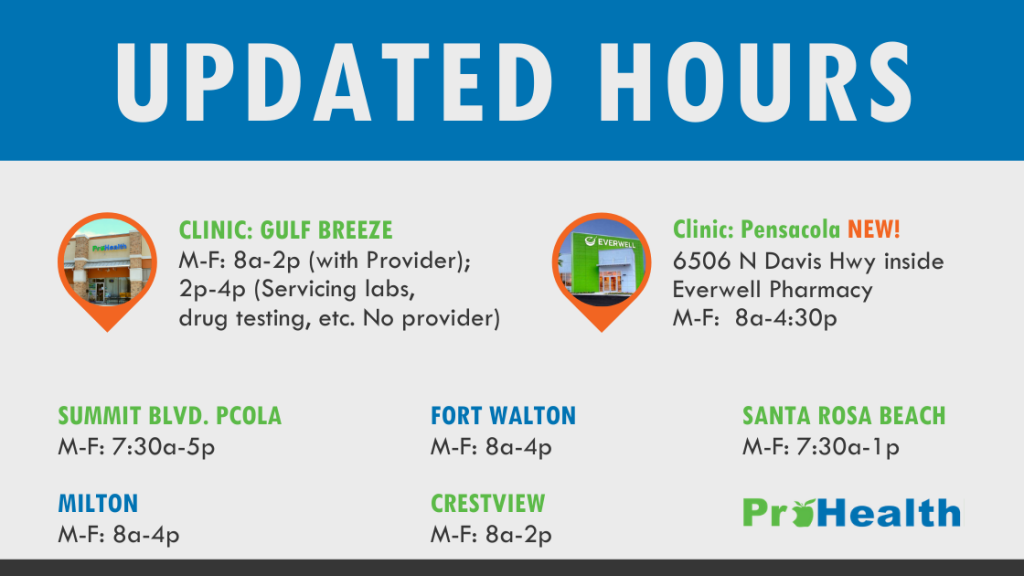 OWNER UPDATE VIDEO
TELEMEDICINE VIDEO
ADDITIONAL RESOURCES
ProHealth Provider, Cherri A. Jennewein DNP, ARNP, FNP-BC, CTSS (also known as CJ), who recently completed the certificate for Psychiatric Mental Health from Florida State University, is recently shared 7 mental health tips to practice during COVID-19 on the ProHealth blog. Click HERE to read.
Take care of your health and protect others from Coronavirus (COVID-19) with the following 7 steps to prevent the spread of the virus on the ProHealth Blog. These guidelines will not only protect us from coronavirus but also the flu and all those other nasty germs floating around. Click HERE to read.
OUR MISSION
To positively impact the wellness of each client.
OUR VISION
To be our community's first choice for quality healthcare and occupational testing.
Learn more about ProHealth HERE or at the video below.
Follow us on Facebook: https://www.facebook.com/ProHealthFL/ and Instagram: https://www.instagram.com/prohealthfl/