Convenience and Affordability at a Blood Work Facility in Milton
When you're trying to stay healthy, there are sometimes a few things that you need to know to establish what your body is doing and how well your systems are running. At ProHealth, we offer a wide range of care including occupational health services. But we also operate a blood work facility in Milton where patients can come in for various types of health screenings and blood tests including STD testing and TB testing.
We know that running blood tests can be expensive and inconvenient. These are two very big reasons that many people don't have them run. And depending on why you are running those tests, often, you feel stressed while you wait for the results. Our blood work facility in Milton provides testing for things like STD tests, TB tests, and even drug tests. Further, our services are more affordable and more convenient than traditional medical facilities and hospitals who often charge more and require appointments.

Contact us for quality care at an affordable price.
Accurate Drug Tests Performed By Caring People
Our team of practitioners and RNs are highly trained and dedicated to offering the highest quality of patient care, and our tests are accurate and efficient. While a rapid test provides results in a matter of minutes, the samples that are used for lab-based tests must be sent to our lab partners so that they can be run through the lab. Results usually take 24 to 48 hours but will take up to a week in some cases.
At ProHealth, we treat everyone with the same level of respect and dedication to quality care that we've become known for, whether you simply need to have drug tests run quickly for a new job or have a doctor's orders for an STD test. As a blood work facility in Milton offering quick, affordable testing services, we work with numerous new-hires sent in for drug testing by their employers as well as many individuals from the Milton area who are facing the more serious concern of disease. Our community and the health of that community is our top priority, and we feel that our blood testing services are an integral part of creating greater health for the people who need it the most.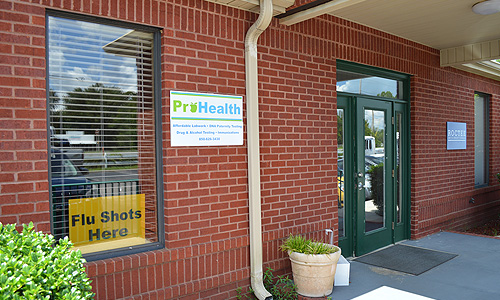 tested care and service
At ProHealth, we offer a full range of high-quality medical care and health services to the people of our community. We know that covering the cost of medical care can seem impossible, so we also offer a variety of affordable Medical Memberships at a cost designed to alleviate some of the financial strain that healthcare expenses so often cause.
Created specifically to provide lower-cost, fixed pricing to patients with high deductible insurance as well as to uninsured individuals, our ProHealth medical memberships allow physicians to provide a greater degree of one-on-one care, purchased in monthly or annual membership packages with predetermined fees and a set number of office visits built in. As a result of their structure, our team of highly experienced doctors is better able to spend more time working directly with their patients, and we can give our patients greater peace of mind in knowing that their healthcare will be affordable.
Whether you come to one of our ProHealth facilities in need full-service medical care, need lab work and blood tests, or have a minor injury that needs attention, the team at ProHealth is dedicated to our mission of offering excellent care and the answers you need to get your health on track.
5825 Hwy 90 Milton, FL 32583
Phone: (850) 626-3430  |  M-F 8:00am - 2:00pm
Services: Lab work, Drug & Alcohol Testing, Vaccinations, Occupational Health Testing, DNA Paternity Testing, Vitamin B12 & Lipotonix shots
Service with heart
At our blood work facility in Milton, some of the many services we offer include:
DNA Paternity Testing
Drug Testing
Medical services
STD Testing
TB Testing
Vaccinations
Vitamin B12 Shots
Please learn more about our testing services here.
Contact the blood work facility in Milton to learn more about the health screenings and blood testing services we provide today!