Wellness is at the top of many people's wish list yet so many of us take our overall health for granted until it forces us to pay attention! Most of us know the ins and outs of staying healthy and keeping those around us healthy. Sometimes we need help applying what we know; sometimes we need help learning more about our personal wellness.
Our Vision
To be our community's first choice in affordable healthcare.
Our Mission
To positively impact the wellness of every patient.

Contact us for quality care at an affordable price.
30+ Years of Service
For over thirty years, ProHealth has worked diligently for the health of the people of Northwest Florida—with the vision to positively impact the wellness of our clients.
ProHealth achieves this vision by providing preventive, convenient medical services and wellness advice at comparable to lower costs than competitors for businesses and individuals.
When ProHealth owners (and sisters) Danette Krumel and Debbie DuFour saw a need for their self-pay ProHealth patients to also have a health care professional at a reasonable price, they set out to make it happen.
In December 2010, ProHealth Medical Care opened on 12th Avenue in the East Hill neighborhood of Pensacola. The Gulf Breeze location opened on November 26th, 2012. In January 2015, ProHealth Medical Care on 12th Avenue moved to a bigger, better location on Airport Blvd in Pensacola. We love the convenient locations, where we see both new and established patients daily. We intend on offering more affordable healthcare by opening additional clinics around Northwest Florida.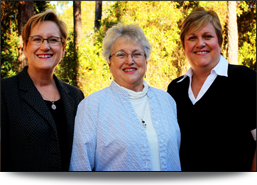 Pictured above: Danette, Vivian (founder of ProHealth
and mother), and Debbie