Be Wise, Immunize!
FACT:
Each year in the United States, up to 60,000 adults die from vaccine-preventable diseases or their complications.
FACT:
Pneumonia and influenza together are the seventh leading cause of death in the US and the fifth leading cause of death among older adults.
FACT:
An estimated 80,000 people in the US are infected with hepatitis B each year. The majority are adolescents and young adults.
FACT:
Vaccines are among the safest medicines available.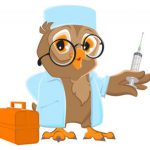 Quality Vaccinations at ProHealth
Vaccinations can give you immunity from all different types of diseases. Immunizations also provide protection for children, adults, and people traveling the world. ProHealth Medical Care can provide all of your vaccination needs. We provide patients with a variety of types of vaccination. Get in contact with ProHealth without delay to learn more about our choices in immunization. Our healthcare providers are passionate about your health, well-being, and comfort. Patient happiness always comes first here.
Children Vaccination Options
Updated immunization is essential for children. Immunization can protect children from chickenpox, Tdap (tetanus-diphtheria-acellular pertussis), rubella, mumps, and measles.
Growing teenagers can benefit greatly from immunization as well. Teenagers that are about to begin their college careers require vaccinations against meningitis. People of all ages can experience this inflammatory condition; however, it's particularly common for pre-teens and teenagers. Both bacterial and viral meningitis exist, and people can get meningitis in many ways. You can get it from kissing or even from using the same silverware.
Adult Vaccination Options
An average of 60,000 American adults passes away every year from medical conditions that could have potentially been stopped by immunization. Influenza and pneumonia, combined, contribute to many fatalities. Influenza and pneumonia fatalities are particularly common in elderly people. Roughly 80,000 Americans contract hepatitis B on an annual basis. They're mostly young adults and adolescents. If you want protection from hepatitis B, influenza, pneumonia and beyond, immunization can make a safe and reliable option.
Travel Vaccinations
immunization is critical for people who plan on being in settings that are totally brand new and unfamiliar. There are a good number of nations that do not grant foreign visitor's entry without proper immunization in advance. If you want your time outside of the nation to be secure, comfortable and pleasant, you need to make your health a focal point. ProHealth Medical Care can provide you with economical choices in necessary travel vaccinations.
$142 Chickenpox (Varicella)
$32 Flu (Shot)
$89 Hepatitis A (2 doses)
$84 Hepatitis B (3 doses)
$139 Meningitis
$94 MMR
$116 Pneumonia Bacteria
$245 Shingles
$58 TDAP
$42 Tetanus
TwinRix Hep A/B (3 doses)
$123 Typhoid
Didn't find what you are looking for? Give us a call and we can help!
Reach Out To ProHealth Medical Clinic Today To Learn More
ProHealth Medical Clinic is the finest option for people who need vaccinations anywhere in the Pensacola area. We offer all types of vaccination choices. Parents who need vaccinations for children can count on our caring, attentive, knowledgeable and helpful providers. Travelers who need immunization prior to departing the country can depend on our providers with the same level of confidence and ease. Get in contact with ProHealth Medical Clinic as soon as possible to request further information about our immunization options. Your health and safety matter more than anything else.
Drug Testing
Employers, businesses, and individuals can get affordable 5-12 panel drug tests, plus DOT drug testing and HHS testing, at any of our locations.
STD Testing
Walk-in to any of our seven locations to get affordable and confidential STD testing. No appointment or doctor's order needed!
DNA Testing
Paternity Testing offers the most accurate analysis of 16 alleles, with a guaranteed accuracy of either 100% in the case that the tested man is not the biological father or as much as 99.99% if the man is the biological father.
Lab Work
Get ANY LAB TEST without a doctor's note! Walk-in to any of our locations and get any test you need. With ProHealth, you're in control.
Flu Prevention
We offer individual flu vaccinations at all of our locations as well as onsite flu clinics for businesses.
Vitamin B12
If you are looking for a way to increase your energy, you might want to consider trying a B12 injection.
Contact Us
All of our locations accept walk-ins, but if you have any questions or would like to make an appointment, please contact us!