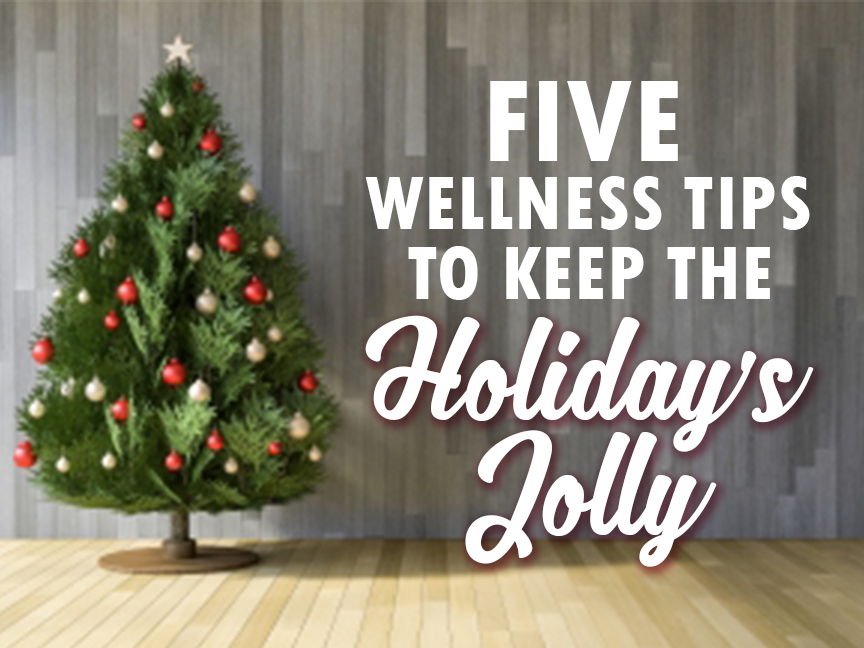 Today, I finally got around to decorating the house for Christmas. I made a cup of hot cocoa, turned on some Christmas music, wrapped lights around my tree, hung ornaments, and put out the little band of drummer boys. When I finished, I looked around and realized how minimal my decorations are compared to the neighbors down the street. I don't have elaborate lights or an inflatable Santa, and I'm using the same fake Christmas tree I've used for years. I began to feel stressed and pressured to do more. Suddenly, the ritual I always get so much joy from became one more thing I had to do. Then I realized that a lot of people experience stress around the holidays, and for many different reasons. I decided to compile a list of ways to stop worrying about how decorated our houses are, or how much Aunt Mildred approves of our choice of dessert. Are you struggling through the holiday stresses?
Read on for wellness tips from ProHealth on how to avoid the extra anxiety:
Do Less: Yes, this sounds simple, but as I discovered when I compared my house to the one down the street, the pressure to do more is EVERYWHERE. We live in a very materialistic world, and the focus is on how ornately we decorate instead of how much we love one another. One way to fight this is the literal trimming of the trees. Smaller Christmas trees are growing in popularity, and also happen to be much less expensive to purchase AND to decorate. So feel free to dial down the decorations, and take comfort in the fact that mini trees are still stylish. If decorating your yard to the hilt and getting that gorgeous, giant spruce makes you happy, then decorate away. But if stringing extra lights on your gable makes your heart rate rise and your palms sweat, remember that the holidays aren't about decorations or gifts. They're about spending time and making memories with those we love most.
Budget: It's true that one of the most stressful parts of the holidays is the financial hangover we inevitably suffer through for the weeks (or longer) after Christmas. This year, do the math and set a budget, then stick to it. You don't have to buy gifts for every long distance cousin you see once a year. Limit the gift list to the family members you'll actually see for Christmas. Better yet, plan a gift exchange and make the gift giving process a game. Most gift swaps have a specific dollar limit, making it even more affordable. You'll make memories and spend less money, and the pressure to buy extraneous gifts will decrease.
Spice it Up: If you're one of those people who loves spicy foods, then you're probably a little less stressed than the rest of the population.

This is because spicy foods trigger endorphins.

Studies have shown that when capsaicin (the chemical found in spicy foods that provides the heat) contacts your taste buds, it sends a signal to your brain that resembles a pain signal. The brain then releases endorphins to counteract the pain, but with spicy foods it's not really pain. This results in an excess of the feel-good chemical, giving you a little extra boost of "happy." So that extra dash of chili powder can quite literally trick you into feeling a little more holiday cheer. Just make sure not to over do it, as heartburn is not an ideal stress reliever.
Music: It's no secret that a lot of people are frustrated with how soon we as Americans start celebrating Christmas. My local supermarket started playing Christmas music and putting out Christmas decorations right after Halloween, completely ignoring Thanksgiving. However, it's a scientific fact that music can directly affect our moods. So if you're feeling stressed about the holidays, crank up some tunes. It doesn't have to be Jingle Bells, just play whatever makes you feel good.
Traditions: Participate in old ones and make new ones. Go light-seeing on Christmas Eve with the family like you've always done, but feel free to try a new cookie recipe with the kids, or go to that Christmas play the local theatre puts on every year. Participating in traditions gives us a feeling of consistency and connection with the people involved. Making new memories, as well as reliving old ones, keeps what truly matters close to heart: spending the holidays with those we love.
The holiday season means more than the tinsel we can hang or the presents we give. It's about enjoying the people around you and being thankful for every blessing.  As always, remember that ProHealth is here to take care of your health. Walk-ins are welcome and wait times are short so people can go back to enjoying time with their families. From wellness checks to minor emergencies, ProHealth is here to keep you happy and healthy this holiday season!