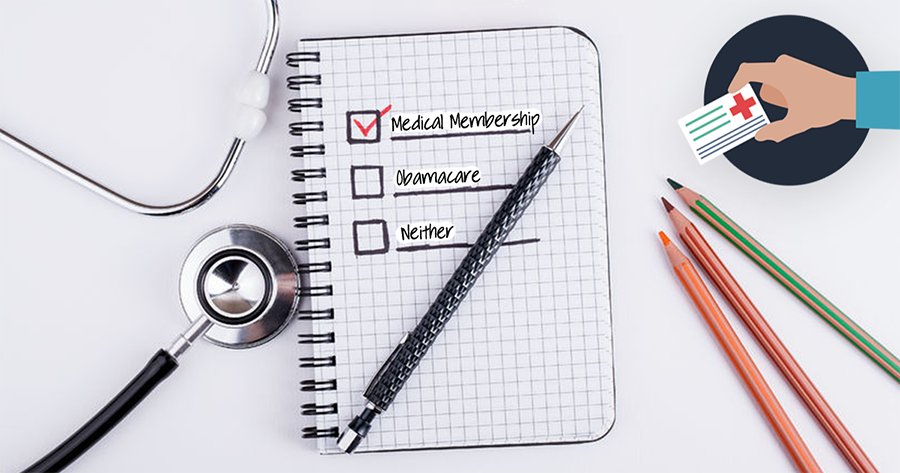 In the age of "fake news" and talking heads screaming their opinions on what health insurance works best (or worse) for you and your family, it's hard to even grasp all the health care options we REALLY have in America. Pretty much everybody knows about health insurance. They know that you can purchase health insurance privately, buy it through the government marketplace, qualify for Medicare or Medicaid, or go without healthcare completely. But do people really have go without healthcare if they can't afford it and don't qualify for the free stuff? The answer is an astounding NO! And that's where Medical Membership comes into play.
Yeah, I don't even know what a Medical Membership is…care to explain?
Glad you asked! The benefits of Medical Memberships are pretty sweet compared to traditional health insurance. The specific Medical Membership program unique to ProHealth Medical Care called ProHealth Medical Membership (PMM) gives people the opportunity to visit both ProHealth Medical Care locations at any time they're open, and access to healthcare Providers who are licensed, experienced, knowledgeable, and hard-working care-driven professionals.
Membership Benefits:
Sounds pretty great, right? All that for only $25 a month per family member. You read it right…only $25 per month. It's such a great deal that a lot of people who have health insurance will also purchase a PMM to offset their super high deductibles.
Services covered under PMM include women's health, cardiovascular health, vaccinations, blood testing and lab work, and DNA paternity testing. PMM also offer physical examinations that can assess overall health in patients. Basically anything from primary care to disease management, to minor illness and injury – PMM has you and your family covered at the right cost.
Remind us about the main points of Obamacare?
According to Healthcare.gov Obamacare, accurately known as the Affordable Care Act (ACA), is a United States federal statute signed into law by President Barack Obama. Some regulations include: allowing children to stay on a parent's plan until the age of 26, efforts to hold insurance companies accountable, and making it illegal for health insurance companies to cancel your health insurance just because you get sick.
The ACA had three intentions:
Make health insurance more readily available and affordable to more people.
Expand the Medicaid program
Offer rights and protections that make coverage more fair and easy to understand
Although seemingly pure in intention, the ACA doesn't come without its problems and vast coverage gap. In 2016, 45% of uninsured adults said that they remained uninsured because the cost of coverage was too high, according to the Kaiser Family Foundation. That's almost HALF the country still lacking healthcare!
There is also a fee that one must pay if they opt-out of buying health insurance when proven they can afford it. Under the ACA, you must have qualifying health coverage or pay a penalty, 2.5% of household income or $695 per adult, whichever is higher, on your next federal tax return.
The article title claims Medical Membership is more valuable than the ACA…how can you claim that?
We'd be happy to break it down for you. But first, some more facts: According to the Kaiser Family Foundation, one in five uninsured adults in 2016 went without needed medical care due to cost. Studies repeatedly demonstrate that the uninsured are less likely than those with insurance to receive preventive care and services for major health conditions and chronic diseases. Gosh, if only there was affordable healthcare option that could cover people who fall through this dreadful crack…
Here are three simple ways Medical Membership beats the ACA on affordability, accessibility, and ability to deliver budget-friendly quality healthcare to you and your whole family:
Medical Membership Actually Works With Your Budget: I mean, who can beat $25 a month per person. That's basically a handout! If you aren't choosing PMM and instead are paying out the wazoo for a health insurance plan that you don't really use, you might want to re-evaluate some priorities.
NO MEDICAL BILLS! Once you pay, you pay. We aren't going to send you surprise bills in the mail – NOPE, that will never happen. Our pricing is also very transparent and available on our website.
Fast & Friendly Service: Whether you walk-in or schedule an appointment, at ProHealth Medical Care we actually are conscious of your time and really care about your experience in our office. We don't take insurance so we don't have to deal with the regulation and red tape that comes along with it. Because of this, we have more time to focus on our patients and providing them the best possible care.
With skyrocketing premiums and deductibles, the Affordable Care Act might not really be as "affordable" as one might initially think. We hope this article gave you some unique insight into what a Medical Membership is and how a program like it can dramatically help you and your family offset the rising cost of healthcare. Nobody should go without healthcare in America; and that's the main reason why the team at ProHealth and ProHealth Medical Care was inspired and motivated to bring a Medical Membership option to the Northwest Florida community. We even have PMM options for businesses! Interested in signing up for ProHealth Medical Membership? Download an application here.
More details about ProHealth Medical Membership
Membership Fees:
$10 visit co-pay
$25 a month per person
One-time registration fee applies
Membership Terms:
Must give a credit card or allow bank draft
Minimum 6-month contract is required
Services not included: Cancer treatment, MRIs (Magnetic Resonance Imaging), ultrasounds, heart attack treatment, stroke treatment, X-rays, broken bone treatment and HIV (Human Immunodeficiency Virus) treatment
Questions? Fill out a contact form at the end of this article or give us a call (850) 434-6168 ext. 5 and ask for Amanda.
[gravityform id="1″ title="true" description="true"]