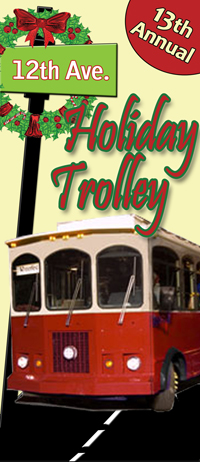 Charming 12th Avenue is bringing, ringing and singing in the holiday cheer…on a trolley! If you like FREE food & spirits, arts & crafts and live music in a fun, family environment, you'll want to hop aboard!
Two trolleys are on a continual loop, stopping at all participating 12th Avenue businesses and churches along the way.
We hope you'll come to get pictures with Santa (and the Grinch!), warm up with hearty stew, make campfire S'mores, and MUCH MORE with friends, family and your 12th Ave neighbors.
It's FREE! (No cost to you! Requires no purchase! We know your wallet needs a break this time of year) and everyone (who loves or needs a little holiday cheer) is welcome! With that said, this is an excellent opportunity to do some holiday shopping, as the 12th Avenue shops offer a variety of awesome gifts.
Feel free to park at any participating business or church. There are also some public parking areas on, or within walking distance of, 12th Avenue.
The Trolley stops are:
and we'll have live performances at the Old Sacred Heart Hospital building by: